Big Horn County Memorial Hospital Renovation and Equipment Replacement Capital Campaign
Emergency Department Renovation
The renovated hospital emergency department will include six new treatment rooms and two larger trauma bays to address increased patient emergency visits the hospital has experienced in the previous three years. The renovated emergency department will be located on the west side of the hospital.
Patient Wing Addition
The new patient wing will include six additional rooms, and will be located on the west side of the hospital in close proximity to the emergency department. The new patient wing addition will consolidate the patient rooms into one controlled segregated area of the hospital, providing security for patients and staff. This addition will provide for single rooms, improved privacy and noise reduction for patients and families, while allowing for a centralized nurse station which improves staff efficiency for patient treatment.
Main Entrance and Patient Lobby
The new main entrance will be located on the east side of the hospital which will include a drive under canopy for drop off and pick up of family and patients. All outpatient and walk in emergency services will be accessed from this main entry point. An improved admission area will be part of this renovation which will increase privacy and provide a single controlled access point. Separate waiting areas will be designed for outpatient services and ambulatory emergency department patients.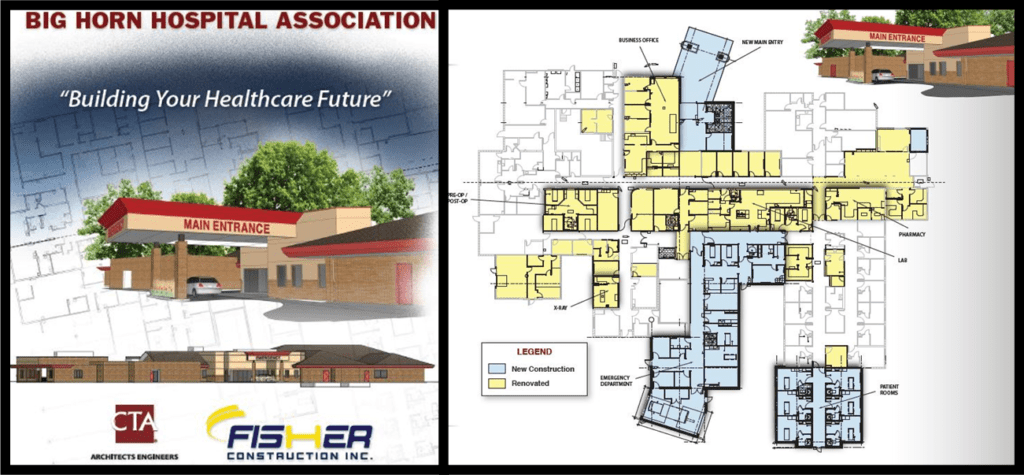 The funds generated by the Foundation must be used exclusively for projects and services authorized and requested by the Board of Directors of the Big Horn Hospital Association. Administration of Foundation funds may also be directed upon approval by the Hospital Board of Directors by the terms, conditions, or stipulations which may accompany any gifts, grants or bequests to the Foundation. Donations contributed during the "Building Your Healthcare Future" capital campaign will be applied to a debt service loan acquired by the Foundation to complete the capital campaign for Big Horn Hospital. Therefore, 100% of the gift goes to support Big Horn Hospital Association. The Capital Campaign has been started with a $250,000 donation from the Big Horn County Memorial Healthcare Foundation. Use the "Donate" tab below to be part of the "Building Your Health Care Future" Capital Campaign.